The Gluten Free Doctor is Welcomed by Colorado VIPs!
Gluten Free leaders, cook book authors and product manufacturers will welcome nationally known doctor, speaker and author Dr. Stephen Wangen Thursday, March 17 when he comes to speak at a presentation organized by the Denver CSA Chapter at 7 pm.
At each event throughout the day, gluten free donations will be collected to build the Food Bank founded by Gluten Free Consultant, Gluten Free Dee.
The busy day of connecting and sharing insights will begin with an intimate gluten free breakfast at Snooze AM Eatery in Denver. Area foodies will have opportunities to demonstrate their culinary skills at a Pot Luck Lunch hosted by Nourished Health in Denver and a Reception hosted by well known cook book author, Carol Fenster.
Participants are asked to RSVP below and let us know what they intend to bring. This gluten free consultant will be bringing the plates, napkins, cups and eating utensils!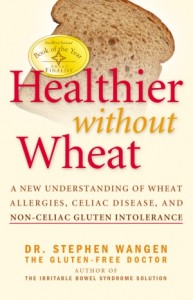 Healthier Without Wheat will be available to purchase at all events March 17