Rudi's Gluten Free Introduces Flour Tortillas! #GFLuv Giveaway
Rudi's Gluten Free debuts their new gluten free 51% whole grain flour tortilla at the Denver Edible Gluten-Free Food Fair, sponsored by the Denver Celiac Spru Association, Sunday, August 19, 2012. Gluten Free Dee speaks with Rudi's Organic Bakery, Doug Radi, Senior Vice President of Marketing and Sales, to get the low down on this delectable treat!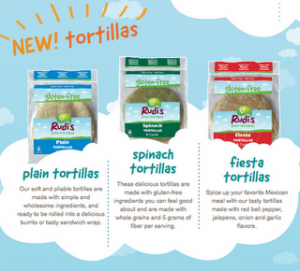 Interview and Tasting of Rudi's Gluten Free Flour Tortillas!
There are 3 flavors, Plain, Spinach and Fiesta. The new tortillas offer a soft, pliable base for a yummy sandwich wrap or burrito. As with all of Rudi's Gluten-Free products, the tortillas are made with only the highest quality, wholesome ingredients, and are certified gluten-free and carry the Gluten-Free Certification Organization (GFCO) seal. They are soft, they are pliable and they are yummy! Oh, and they are gluten free!
Rudi's and I will be giving away a nice prize pack to the follower who has the most creative entry (including the words Rudi's Gluten Free, #GFLuv and Gluten Free Dee) in any/each of the following social media outlets:
https://www.facebook.com/rudisglutenfreebakery
https://www.facebook.com/GlutenFreeDee
https://www.facebook.com/DeeMValdez
https://www.facebook.com/GFMealsInAMinute
https://www.facebook.com/GlutenFreeInDenver
On Twitter, tweet something creative with #GFLuv for @GlutenFreeDee & new #GF Tortillas from @RudisGlutenFree
https://twitter.com/GlutenFreeDee
PRIZE PACK:
Rudi's Gluten-Free Bakery's new 

Gluten-Free Tortillas

Rudi's Gluten-Free T-shirt

Rudi's magnet

Tortilla press

Cookbook with lots of gluten-free goodness
Comment below to show your #GFLuv and share the #GFLuv with your friends! Contest runs thru Friday, August 31st, 2012