Halloween Treats for a Gluten Free Coworker or Family
As you unload your Halloween loot, be sure to check the following lists to see what is safe for the kiddos and yourself if you are following a gluten free diet. Feeding your gluten free coworker or a being a gluten free family means you have to be careful but as you'll see, there are still lots for us to indulge in this Halloween!
These lists are only a guide, since ingredients and formulas can change at any time. In some cases, a product made at one location may be listed as gluten-free, while the same product made at a different location may not be gluten-free.
If you are not sure a product is gluten-free, contact the manufacturer's customer service personnel directly at the list numbers listed.

Nestle USA considers "gluten-free" to mean "no gluten ingredients are in the product, whether directly added, or potentially present due to cross-contact. If a product label has an allergen advisory statement such as 'made on equipment' or 'facility that also processes wheat etc.," we do not consider that product to be gluten-free. It is important to always read product labels/packaging for the most accurate information." Nestle will label potential gluten cross contamination, a customer service representative says.
According to Nestle, the following candies are gluten-free:
Baby Ruth
Bit-O-Honey
Butterfinger Bar (original flavor only, NOT giant bar)
Milk Chocolate
Goobers
Nips (including both regular and sugar-free)
Oh Henry!
Raisinets (including Cherry, Cranberry and Dark Chocolate flavors)
Sno-Caps
Wonka Pixy Stix
Laffy Taffy (including Laffy Taffy Rope and Fruitarts Chews)
Wonka Lik-M-Aid Fun Dip
The following Nestle candy products are NOT gluten-free:
Butterfinger Crisp Bar
Butterfinger Giant Bar
Butterfinger Snackerz
Butterfinger Medallions
Butterfinger Jingles
Butterfinger Hearts
Butterfinger Pumpkins
Wonka Nerds
Sweetarts
Wonka Bar (all flavors)
Chewy Spree
Wonka Gummies
Wonka Kazoozles
Everlasting Gobstopper
100 Grand Bar
In some of these products, the ingredients themselves are gluten-free, but the candies are processed in a facility that also processes gluten.
Contact Nestle USA at 800-225-2270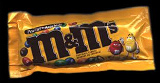 Mars Chocolate makes M&M's, Dove, Snickers and other products. The company urges gluten-free consumers to check labels, even if a product normally is gluten-free; in busy times of year (such as Halloween), Mars uses alternative facilities to make its candy, and some of those may introduce cross-contamination risks. The company says it will label any gluten ingredients or cross-contamination.
According to Mars Chocolate, the following candies are gluten-free:
M&M's (all EXCEPT for pretzel-flavored M&M's
3 Musketeers Bars (all flavors)
Milky Way Midnight Bar
Milky Way Caramel Bar
Dove Chocolate products (all flavors)
Snickers Bars (all flavors)
Munch Nut Bar
The following Mars Chocolate products are NOT gluten-free:
Milky Way Bar (original)
Mars Bar
Contact Mars Chocolate at 800-627-7852

Hershey's does not publish a gluten-free candy list because "the ingredients can change at any time," according to one of the company's customer service representatives.
As of October 2011, the following (short) list of Hershey's products are gluten-free:
Hershey's Plain Milk Chocolate Kisses
Hershey's Milk Chocolate Bar, only in the 1.55 oz. size
Hershey's Milk Chocolate with Almonds Bar, only in the 1.45 oz. size
The following Hershey's products are NOT gluten-free:
Hershey's Special Dark Bar
Hershey's Cookies 'N' Creme Bar
Hershey's Air Delight
Hershey's Milk Chocolate Drops
Hershey's Miniatures
Hershey's Nuggets
Mr. Goodbar
Symphony Bar
Hershey's Extra Dark Chocolate
Mounds
Almond Joy
Hershey's says it will list any ingredients containing wheat, barley, rye, oats and malt on the label, and also will disclose shared equipment or shared facilities on the label.
Contact Hershey's at 800-468-1714
Jelly Belly
Jelly Belly makes jelly beans in an ever-expanding array of colors and flavors. According to the company, "all Jelly Belly beans are gluten-free, dairy-free, gelatin-free, vegetarian and OU Kosher." This includes licorice-flavored gluten-free Jelly Belly jelly beans (in most cases, licorice candy contains wheat).
However, other Jelly Belly candies, including Chocolate Malt Balls, Chocolate Bridge Mix, Licorice Bridge Mix, Black Licorice Buttons and Licorice Pastels, are NOT gluten-free.
Contact Jelly Belly at 800-522-3267

Necco
Necco probably is best known for its small sugar Valentine heart candies – the pastel-colored ones that say "Be Mine" and "True Love" – but my daughter's candy stash often turns up a few Necco products every Halloween.
According to Necco, the following products do not contain gluten from wheat, rye, oats or barley:
Necco Wafers
Mary Janes
Mary Jane Peanut Butter Kisses
Sweethearts Conversation Hearts (available for Valentine's Day only)
Canada Mint & Wintergreen Lozenges
Haviland Thin Mints
Candy Stix
Clark Bars
Skybars
Haviland Peppermint & Wintergreen Patties
Necco Candy Eggs (available at Easter only)
Talking Pumpkins (available at Halloween only)
Squirrel Nut Caramels
Squirrel Nut Zippers
Banana Split
Mint Julep Chews
ULTRAMINTS
Contact Necco at 781-485-4800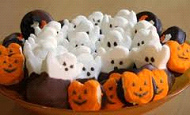 Peeps marshmallow treats, made by Just Born, used to appear only at Easter, but in recent years we've seen Halloween Peeps shaped like pumpkins and ghosts.
According to Just Born, as of October 2011 all the company's marshmallow candies that are safe from cross-contamination will state "gluten-free" on the package by the ingredients listing. The company also makes Mike and Ike Candies.
According to Just Born, the following candies are gluten-free:
Mike and Ike Berry Blast
Mike and Ike Italian Ice
Mike and Ike Jolly Joes
Mike and Ike Lemonade Blends
Mike and Ike Original Fruits
Mike and Ike Redrageous
Mike and Ike Tangy Twister
Mike and Ike Tropical Typhoon
Mike and Ike Zours
Mike and Ike Jelly Beans
Mike and Ike Hot Tamales
Goldenberg's Vintage Peanut Chews
Contact Just Born at 888-645-3453